The pictures you'll see in this article are nowhere near a true representation of Sequins.

In real life, you're able to see how beautiful sequins really are. With the sparkles and reflection, and depth into the material. 

Pictures DO NOT do it justice, but it'll have to suffice for now. Seriously, if you're on the fence, go get one, you won't regret it once it's in your hands. 

Without further ado, let's start this with a good note! 
It is THE DRESS you wear for New Year's Eve.
The absolute best thing about holiday seasons are that there'll never ever be too much glitter.
The streets come to life with sparkly decorations. Shimmery discs hang on trees and make them glimmer in the sun. Store windows get bombarded with neon signs that screams "festive".
If you're feeling a little down on any given day, all you gotta do is go have a walk when the sun is down.
Have a good look at the strings or fairy lights, meticulous decorations of homes or streets, and you'll be feeling the whole festive mood all day. In fact, maybe you'll even be the one making another person's day when you wear a stunning dress!
Glitter suddenly becomes in trend, from eyeshadow glitter, to really anything. Try Candy Sequin Earrings!
It's not only acceptable, but really looked forward to as wearing these glitter products makes your mood good! It's almost like a phenomenon that comes around every few months a year.
Have you worn a Sequin Dress during NYE before?
From holiday get-together to maybe an occasional anniversary dinner, there's always a million opportunities to look glitzy.
Of course, New Year, New Me!
What is a better way to start the new year than to out-shine everybody?
A good quote I've learnt from my BFF, how you do ANYTHING is how you do EVERYTHING. If you wanna be the best, you gotta dress as the best. If you want to shine brighter than all your peers, you gotta dress for the job babe! 
Also, my glittery weapons aren't just meant for the holiday seasons! They are also perfect for other occasions beyond the New Year's Eve. Don't believe me? Read on. 
Another reason why you absolutely NEED a sequin dress: Celebrities are crushing it with theirs.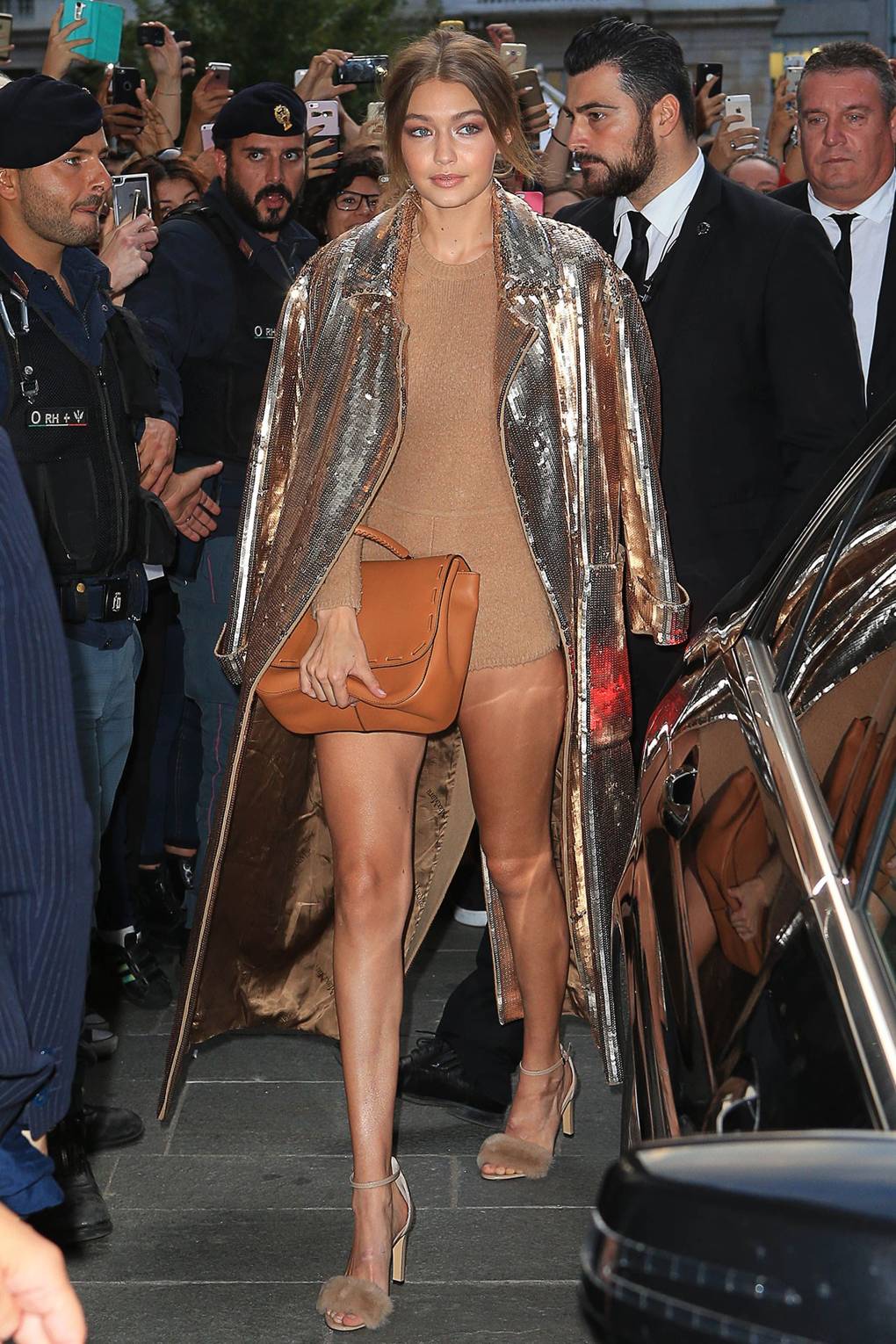 Just look at my bae, Gigi Hadid, making the world drool with her delicious coat. Oh wait, what's that coat's material? THAT'S RIGHT, SEQUINS. 
Seriously though, look at the security guard on the far left lmao. If it was me, I'd lick my lips too…
Just look at how Kendall Jenner slays with this revealing Deep V dress…. wait what? It's Sequin AGAIN! 
Sequins dress are arguably the best balance between sparkle and having a sleek silhouette. 
Lastly, for the party go-ers. You absolutely need this in your arsenal to slay them man-crushes. 
The party season is the my favorite season. Who doesn't love to party? However, just like you'd never fight a battle you know you'll lose, I will never enter a club wearing anything that isn't my 100% best look. 
With that said, my go-to dress (obviously not every single time I'm out) is basically my whole wardrobe of sequins. 
Sure, I have other dresses, and of course, I wear those, but nothing REALLY screams "ladies night" as loud as a shimmery low cut V neck while showing off your legs. 
What's more, they literally go with everything. Jeans? Check. Faux fur coat? Mhmm yummy! You'll be the sparkle of the night. From bubbling champagne to fireworks, nothing will EVER outshine you. 
You are absolutely ALLOWED and ENCOURAGED to wear sequin dresses outside of holidays!
PLEASE! It's 2018, you can wear whatever you want, whenever you want. It's not even a myth, it's just outdated caveman psychology. 
Yes, whatever you want includes this absurd headwear that I absolutely HAD to snag the moment I saw one. It's mermaid themed, so…. yes, do what you want with it!
It's both versatile, and cool. A little (or a lot) sparkle will only help you love yourself more. 
It's not just limited to dresses too. 
According to Smithsonian magazine, King Tut (1341 to 1323 B.C) when his tomb was discovered in 1922, his garments were covered in "gold sequins-like disks". The sequins, usually made of gold or other precious metals sewn on to clothing, represent status symbol and some cases, used as coins for trading. In some countries like Egypt, India and Peru, the sequins were also considered as protection from the evil spirits.
So yes, it makes you look dropdead gorgeous, AND protects you from evil spirits? Please, take my money! 
Tell me in the comments below, what do you love most about Sequins?